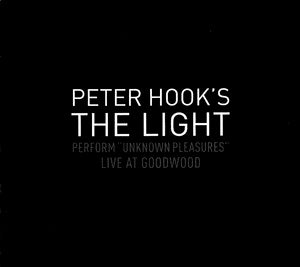 LiveHereNow.com
Peter Hook & the Light - Unknown Pleasures - Live At Goodwood (MP3 or WAV)
Download Format choose MP3 Or WAV
 Peter Hook & The Light, recorded live at the inaugural Vintage Festival at Goodwood on August 15th 2010. This recording of "Unknown Pleasures" is complete with a full orchestra and choir.
01. At A Later Date
02. Leaders Of Men
03. Insight
04. Atmosphere
05. New Dawn Fades
06. Love Will Tear Us Apart
07. She's Lost Control
08. Transmission
09. No Love Lost
10. Leaders Of Men
11. Digital
12. Glass
13. Disorder
14. Day Of The Lords
15. Insight
16. New Dawn Fades
17. Shadowplay
18. Wilderness
19. Interzone
20. I Remember Nothing
21. Atmosphere
22. She's Lost Control
23. Transmission
24. Love Will Tear Us Apart
WAV or MP3 Download
**(The files are delivered as a .zip file and need to be downloaded on a computer and transferred to your phone/mobile device via iTunes or similar app, please check how to download & sync your preferred device to play your download).**
320kbps .mp3 files are better than iTunes quality sound files but are still compressed audio, they sound great and are less than a 1/4 of the size of the .wav files. They are perfect if you have limited hard drive space or don't have access to a fast-broadband connection. The .Wav files are full CD quality or better and are usually between 1 and 2 GB of date depending on set length .
---
Share this Product
---
More from this collection