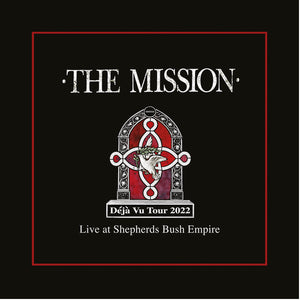 LiveHereNow.com
The Mission - Déjà Vu - Live At Shepherds Bush Empire - Download (MP3 or WAV)
A Digital Download of Déjà Vu - Live At Shepherds Bush Empire
The Mission - Recorded live at Shepherds Bush Empire over two nights on 22nd & 23rd April 2022, at the end of the UK leg of their rechristened 'Déjà Vu' tour.
This deluxe double CD is a ' best of ' and features a selection of tracks collated by Wayne from over the two blistering nights. In his own words, "The shows sound fantastic - gritty and very live, and a worthy testament to how 'rocking' the Mission have been this year."
OUT NOW!
 Tracklist:
1. Beyond the Pale (night 2)
2. Hands Across the Ocean (night 2)
3. Serpents Kiss (night 1)
4. Met-Amor-Phosis (night 2)
5. Naked and Savage (night 2)
6. Severina (night 2)
7. Like a Child Again (night 1)
8. Butterfly on a Wheel (night 1)
9. Within the Deepest Darkness (night 2)
10. Grotesque (night 2)
11. Wasteland (night 2)
12. Deliverance (night 2)
13. Belief (night 1)
14. Swan Song (night 2)
15. The Crystal Ocean (night 2)
16. Tower of Strength (night 2)
**(The files are delivered as a .zip file and need to be downloaded on a computer and transferred to your phone/mobile device via iTunes or similar app, please check how to download & sync your preferred device to play your download).**
320kbps .mp3 files are high quality sound files but are still compressed audio, they sound great and are less than a 1/4 of the size of the .wav files. They are perfect if you have limited hard drive space or don't have access to a fast-broadband connection. The .Wav files are full CD quality or better and are usually between 1 and 2 GB of data depending on set length .
---
Share this Product
---
More from this collection