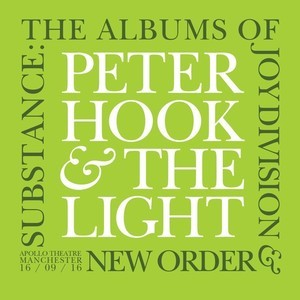 LiveHereNow.com
Peter Hook & The Light - Substance - The Albums Of Joy Division & New Order Live (MP3 or WAV)
DOWNLOAD FORMAT
Peter Hook & The Light Perform Substance – The Albums Of Joy Division & New Order Live At The Apollo Theatre Manchester, 16th September 2016.
Choose MP3 or WAV
 Setlist: -
1. Murder
2. Procession
3. Cries And Whispers
4. Ceremony
5. Everything's Gone Green
6. Temptation
7. Blue Monday
8. Confusion
9. Thieves Like Us
10. Perfect Kiss
11. Sub-Culture
12. Shellshock
13. State Of The Nation
14. Bizarre Love Triangle
15. True Faith
16. 1963
17. No Love Lost
18. Glass
19. From Safety To Where
20. Komakino
21. These Days
22. Warsaw
23. Leaders Of Men
24. Digital
25. Autosuggestion
26. Transmission
27. She's Lost Control
28. Incubation
29. Dead Souls
30. Atmosphere
31. Love Will Tear Us Apart
MP3 or WAV Download
**(The files are delivered as a .zip file and need to be downloaded on a computer and transferred to your phone/mobile device via iTunes or similar app, please check how to download & sync your preferred device to play your download).**
320kbps .mp3 files are better than iTunes quality sound files but are still compressed audio, they sound great and are less than a 1/4 of the size of the .wav files. They are perfect if you have limited hard drive space or don't have access to a fast-broadband connection. The .Wav files are full CD quality or better and are usually between 1 and 2 GB of date depending on set length .
---
Share this Product
---
More from this collection