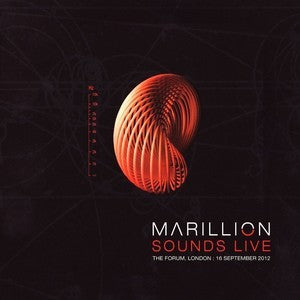 LiveHereNow.com
Marillion - Sounds Live - The Forum 16th Sept 2012 - Download MP3 or WAV
This exclusive live limited edition double album captures Marillion, recorded live at The Forum, London, on September 16th 2012.
Tracklist: -
01. Gaza 
02. This Town/The Rake's Progress/100 Nights
03. You're Gone
04. Sounds That Can't Be Made
05. Neverland
06. A Voice From The Past
07. Power
08. Fantastic Place
09. Real Tears For Sale
10. The Sky Above The Rain
11. The Great Escape
12. A Few Words For The Dead
13. Sugar Mice
14. Estonia
MP3 or WAVDownload
**(The files are delivered as a .zip file and need to be downloaded on a computer and transferred to your phone/mobile device via iTunes or similar app, please check how to download & sync your preferred device to play your download).**
Our 320kbps .mp3 files are better than iTunes quality sound files but are still compressed audio, they sound great and are less than a 1/4 of the size of the .wav files. They are perfect if you have limited hard drive space or don't have access to a fast broadband connection. The .Wav files are full CD quality or better, and can be well over 1 GB of data.
---
Share this Product
---
More from this collection