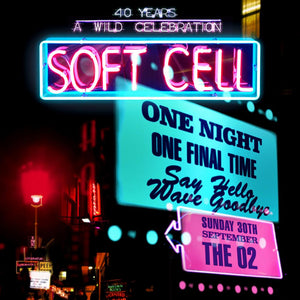 LiveHereNow.com
Soft Cell - Say Hello, Wave Goodbye: The O2 London Audio Digital Download MP3 or WAV
Out Now!


Synth-pop pioneers Soft Cell reunited for one last time at London's The O2 on Sunday 30th September 2018 – their first UK show for 15 years.

Marc Almond and Dave Ball performed together for a one-off show, 'Say Hello, Wave Goodbye', as they celebrate their 40th anniversary as a duo with their first UK show since 2003. This was the band's last EVER show.
One of the most influential groups to emerge from the electronic music scene in the UK in the 1980s, Soft Cell produced five albums of original material, book-ended by their debut; 1981's 'Non-Stop Erotic Cabaret', and 2002's 'Cruelty Without Beauty'. The incredible string of hits Soft Cell produced during this time, including ten tracks that reached the UK Top 40 singles charts, need little introduction.

The unique combination of Ball's musicianship and Almond's tender yet assured delivery on songs such as 'Memorabilia', 'Torch', and of course their trademark 'Say Hello, Wave Goodbye' inhabits a unique place in British music history.

'Tainted Love', Soft Cell's boundless Number One hit, is perhaps the most emblematic and evocative song of the era. A cover of Gloria Jones' Northern Soul staple that kept the original's yearning tone, Soft Cell enveloped the track with a slowed down instantly recognisable synth riff – a nod to pop music's past, yet wholly updated with the fresh, modern sound of the 80s that still holds up to this day.

Intervening years have seen both Marc Almond and Dave Ball's talent recognised with successful solo careers in their own right, with Almond awarded an Ivor Novello Inspiration Award in 2013, as well as an OBE this year's New Year's Honours List. Ball went on to form The Grid, peaking with million-selling international hit 'Swamp Thing', as well as working as a producer and writer for the likes of Kylie Minogue and remixer for David Bowie, Pet Shop Boys, Erasure, Yello & The B-52's.

On performing their best-loved hits together again, Marc Almond commented "With Soft Cell I always felt something was unfinished. This last ever final show will be the best ever ending. It will be a real statement and send off, and thank you to every fan"

Dave Ball added "We live in very interesting times, and 2018 promises to be a very special year".
**(The files are delivered as a .zip file and need to be downloaded on a computer and transferred to your phone/mobile device via iTunes or similar app, please check how to download & sync your preferred device to play your download).**
320kbps .mp3 files are better than iTunes quality sound files but are still compressed audio, they sound great and are less than a 1/4 of the size of the .wav files. They are perfect if you have limited hard drive space or don't have access to a fast-broadband connection. The .Wav files are full CD quality or better and are usually between 1 and 2 GB of date depending on set length .
---
Share this Product
---
More from this collection