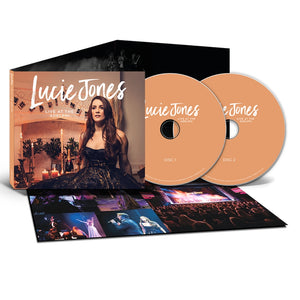 LiveHereNow.com
Lucie Jones - Live at the Adelphi - Exclusive Double CD.
Lucie Jones - Live at the Adelphi with The London Musical Theatre Orchestra.

This is the Deluxe 2 CD version of Lucie's debut album. Recorded live at Lucie's magical performance at the Adelphi Theatre on the 16th February 2020.
The package contains the main album plus an extra bonus disc with tracks exclusive to this release, including outtakes from the show and a look behind the curtain with Lucie and her MD, Freddie, in a piano rehearsal. It's a real must-have for fans.
This version  of the album is exclusive to this site and will not be available in the shops. 
CD 1
1. Excerpt from "What's Inside"
2. Don't Rain on My Parade
3. Sing Happy
4. Summer in Ohio
5. Gimme Gimme
6. The Prayer
7. A Piece of Sky
8. Into The Unknown
9. God Help the Outcasts
10. Take Me or Leave Me
11. Moon River
12. Never Give Up On You
13. She Used to Be Mine
14.That's Life
15. Bring Him Home

CD 2
1. Introduction
2. Voice Note from Lucie
3. What's Inside (Rehearsal)
4. Times Are Hard For Dreamers (Rehearsal)
5. Can't Help Falling In Love (Rehearsal)
6. Fix You (Rehearsal)
7. Burn (Rehearsal)
8. She Used To Be Mine (Live with Introduction)
9. Legally Blonde (Rehearsal)
10. So Much Better (Live)
11. Bring Him Home (Rehearsal)
12. Gravity (Rehearsal)
13. Post-Show Discussion

---
Share this Product
---
More from this collection