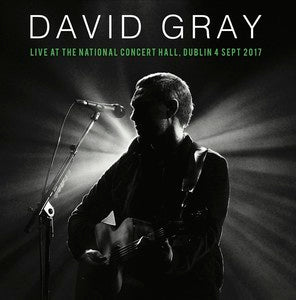 LiveHereNow.com
David Gray - Live At The National Concert Hall Dublin 4th Sept 2017 - Download (MP3 or WAV)
Night one of David Gray's solo acoustic evenings at The National Concert Hall, Dublin, on Monday 4th September 2017.
1. Snow In Vegas
2. Back In The World
3. It's All Over
4. Coming Down
5. Falling Free
6. From Here You Can Almost See The Sea
7. Ain't No Love
8. Alibi
9. The One I Love
10. Only The Wine
11. Smoke Without Fire
12. Please Forgive Me
13. Fugitive
14. Kathleen
15. Nemesis
16. The Other Side
17. Be Mine
18. You're The World To Me
19. Sail Away
20. Nightblindness
21. Babylon
22. Shine
23. Last Summer
24. This Year's Love
**(The files are delivered as a .zip file and need to be downloaded on a computer and transferred to your phone/mobile device via iTunes or similar app, please check how to download & sync your preferred device to play your download).**
320kbps .mp3 files are better than iTunes quality sound files but are still compressed audio, they sound great and are less than a 1/4 of the size of the .wav files. They are perfect if you have limited hard drive space or don't have access to a fast-broadband connection. The .Wav files are full CD quality or better and are usually between 1 and 2 GB of date depending on set length .
---
Share this Product
---
More from this collection