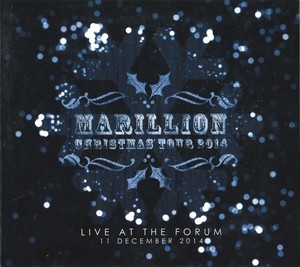 LiveHereNow.com
Marillion - Christmas Tour 2014 Download MP3 or WAV
This exclusive live limited edition double album captures Marillion, recorded live at The Forum, London, on December 11th 2014, as part of their 2014 Christmas Tour.
Tracklist: -
01. Gazpacho
02. The Uninvited Guest
03. Power
04. No One Can
05. Warm Wet Circles/That Time Of The Night (The Short Straw)
06. Woke Up
07. Trap The Spark
08. Easter
09. Sounds That Can't Be Made
10. Sounds That Can't Be Made Intro
11. Seasons End
12. Man Of A Thousand Faces
13. King
14. The Christmas Song
15. Happy Xmas (War Is Over)
16. Slainte Mhath
17. The Release
18. Garden Party
MP3 or WAV Download
**(The files are delivered as a .zip file and need to be downloaded on a computer and transferred to your phone/mobile device via iTunes or similar app, please check how to download & sync your preferred device to play your download).**
Our 320kbps .mp3 files are better than iTunes quality sound files but are still compressed audio, they sound great and are less than a 1/4 of the size of the .wav files. They are perfect if you have limited hard drive space or don't have access to a fast broadband connection. The .Wav files are full CD quality or better, and can be well over 1 GB of data.
---
Share this Product
---
More from this collection