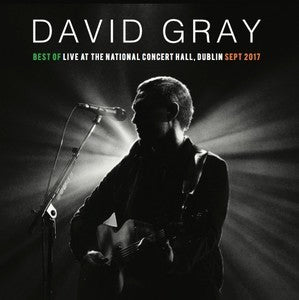 LiveHereNow.com
David Gray - Best Of: Live At The National Concert Hall Dublin - Download (MP3 or WAV)
The 'Best Of' collection taken from David Gray's solo acoustic evenings at The National Concert Hall, Dublin, on Monday 4th, Tuesday 5th & Wednesday 6th September 2017, on Deluxe 2CD.
1 – Snow In Vegas
2 – Back In The World
3 – Coming Down
4 – Falling Free
5 – Flesh
6 – Ain't No Love
7 – Slow Motion
8 – Last Summer
9 – Nightblindness
10 – The Other Side
11 – Be Mine
12 – Only The Wine
13 – Please Forgive Me
14 – Gulls
15 – You're The World To Me
16 – Sail Away
17 – Say Hello Wave Goodbye
18 – Nemesis
19 – Babylon
**(The files are delivered as a .zip file and need to be downloaded on a computer and transferred to your phone/mobile device via iTunes or similar app, please check how to download & sync your preferred device to play your download).**
Our 320kbps .mp3 files are better than iTunes quality sound files but are still compressed audio, they sound great and are less than a 1/4 of the size of the .wav files. They are perfect if you have limited hard drive space or don't have access to a fast broadband connection. The .Wav files are full CD quality or better, and can be well over 1 GB of data.
---
Share this Product
---
More from this collection