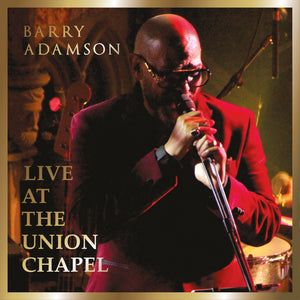 LiveHereNow.com
Barry Adamson - Live At The Union Chapel - Download. (MP3 or WAV)
Barry Adamson - Live At The Union Chapel - (Download - MP3 or WAV)
Recorded in October 2018, the album includes the entire set from the Union Chapel Show in London, complete with full band and added strings and brass for the ultimate Barry Adamson Live Experience!
The show features songs across Barry's whole career including Soul Murder's 'Split', Jazz Devil (As Above So Below), Sounds From The Big House (Moss Side Story), I Got Clothes (Love Sick Dick), The Hummingbird (Memento Mori) and the Magazine classic 'The Light Pours Out Of Me'.
"From Moss Side Story To Memento Mori"
Tracklist: -
The Beaten Side Of Town
Split
Sounds From The Big House
The Hummingbird
The Sun And The Sea
Civilization
Come Hell Or High Water
I Could Love You
The Long Way Back Again
You Sold Your Dreams
Whispering Streets
I Got Clothes
Up In The Air
The Light Pours Out Of Me
Jazz Devil / Nightclubbing (Medley)
Downloads are available as WAV or MP3 quality – just choose which one you want.
**(The files are delivered as a .zip file and need to be downloaded on a computer and transferred to your mobile device via iTunes or similar app, please check how to download & sync your preferred device to play your download before purchasing).**
Our 320kbps .mp3 files are high quality sound files but are still compressed audio, they sound great and are less than a 1/4 of the size of the .wav files. They are perfect if you have limited hard drive space or don't have access to a fast broadband connection. The .Wav files are full CD quality or better, and can be well over 1 GB of data.
---
Share this Product
---
More from this collection